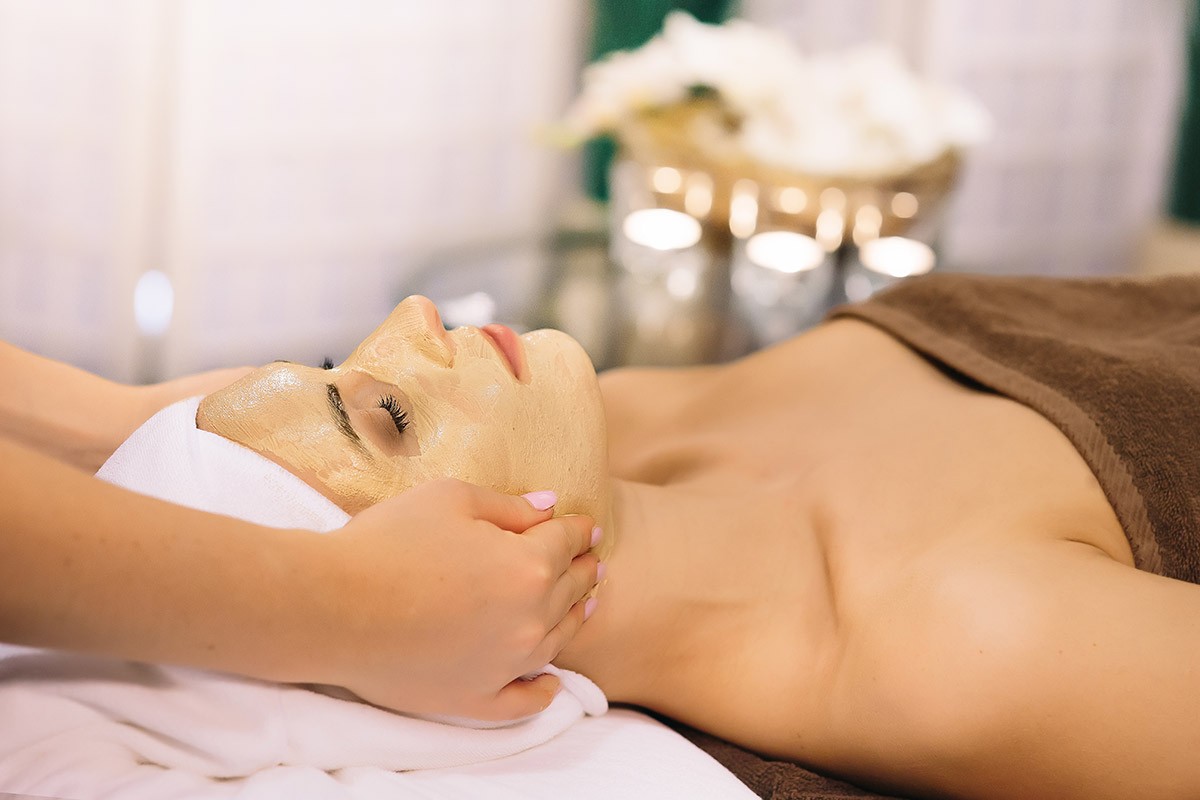 Young looking radiant complexion despite the passage of time can be worked out thanks to carefully selected treatments using cosmetics from renowned companies such as Dibi Milano or Selvert. The SPA gallery offers the most modern moisturizing, toning, nourishing and smoothing treatments that restore the skin's radiance and freshness, and thus the well-being.
CLEANSING TREATMENTS
Glyco program - treatment based on glycolic acid. Exfoliates the horny layer of the epidermis and rebuilds it. For a uniform skin effect, a glowing and smoother skin.
Treatment based on mandelic acid - makes the complexion lighter, more firm, smoother and better moisturized.
Microdermabrasion - exfoliating and cleansing treatment combined with an algae mask
Facial cleanse - manual facial cleansing with a soothing mask
Cavitation treatment with soothing mask - Peel with ultrasounds, for improved micro-circulation and cell oxygenation.
Cavitation during treatment
Facial treatment with ultrasounds - ultrasounds affect not only the stratum corneum of the skin, but also the deeper layers of the epidermis, stimulating fibroblasts to increase the production of collagen and elastin. As a result, we get the effect of a strong skin lifting
Ultrasounds during the treatment
BASIC TREATMENTS
Details of beauty - a treatment for the area around the eyes and lips, restores skin visibility. Contains liposomes, apple stem cells along with caviar and retinol.
Frutti di bosco -forest fruits elixir for a beneficial and soothing effect on the skin. Protects and soothes delicate and often irritated skin.
Hydra perfection - for dehydrated skin. The high concentration of algae and mineral salts, vitamins and trace elements present in the treatment promotes deep regeneration and hydration of the facial skin
Algae mask facial massage - contains a large amount of micronutrients and vitamins, with a significant effect on the skin. Algae calm down, soothe and bring into a state of deep relaxation.
Face massage - treatment with relaxing and stimulating properties. Improves the face contour, smoothes wrinkles and removes muscle tension
ANTI-WRINKLE TREATMENTS
Age positive - a professional and complete care treatment ideal for mature skin, wishing to regain a fresh and full of life appearance. The treatment is recommended for all skin types to preserve youth and prevent skin aging
Power retinol- intensive regenerative treatment for all skin types.
Procellular 365 - for all skin types, especially delicate and sensitive. Regenerates and strengthens the skin.
#Age method -professional treatment for global rejuvenation, firming and illuminating. Recommended for mature skin, with wrinkles, hyperpigmentation, enlarged pores and uneven skin tone.
The Gold -the treatment contains bioconjugated gold, which stimulates collagen and proteoglycan production.
It reduces and prevents the appearance of signs of aging, provides renewal, elastic and flawless skin that glows with youth
Power C+ - Treatment for skin with signs of photoaging, gray, smoker's skin. Intensively brightens, supports the production of collagen, anti-wrinkle effect.
Filler Code professional filling procedure for an anti-aging effect with exceptional results Perfect for dehydrated, flaccid and lifeless skin. Works on the surface and in deep layers of the skin. Gives immediate visible results. Recommended for mature skin with apparent wrinkles and mimic lines.
Face LPG endermology - lifting, firming and elasticizing the skin
Oxygen in the face is a non-invasive, painless procedure performed to rejuvenate the skin. Based on the hyperbaric oxygen technology, i.e. oxygen under pressure, through which active ingredients are delivered into the skin
Infusion of oxygen face + neck + cleavage
Microneedle face mesotherapy - revitalizing treatment, stimulating natural regenerative properties